-By Sohini Bose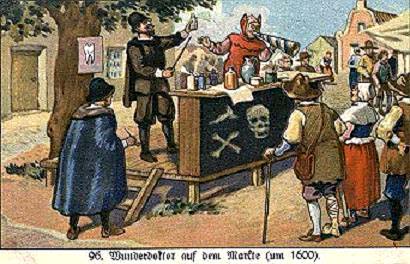 Quackery is a socio-economic problem which is turned a blind eye towards for reasons unascertained. With the Government neither having taken any active interest nor steps to curtail it with the additional lacuna of dedicated penal provisions or legislation against it, this article proceeds to enumerate as to why and how quackery should be curbed.
A "quack" has been defined by the Supreme Court in 1996 in the case of Poonam Verma v. Ashwin Patel and Ors, 1996 as someone practising modern medicine without proper training. In plain words, a doctor with his small clinic who does not have a degree to practise medicine but is still writing you a prescription of medicines and taking a nominal amount of money is a quack.
Perhaps quacks don't create such a stir in the society since they are after all, making medicines accessible to even the poorest, albeit not under ideal circumstances and seldom the correct medicine. Private doctors are indeed expensive for a large stratum of the society and government hospitals are overcrowded. It was reported that a quack's injection has given several people HIV since he used the same needle for multiple people while another carried out illegal kidney transplants. Despite this, people claim that they would have been dead if not for the "doctor's" medicines. The reason for a quack's patients to time and again visit him despite his unqualified status, is the high fees of a private, qualified doctor along with separate expenses for tests. Comparatively, a quack charges as low as Rs. 40 for consultation and Rs. 2 for Outpatient Department (OPD). Usually, government hospitals tend to cost a labourer his entire day's wage owing to the long queues. It was also reported that a quack who killed a patient's son is still visited by her because he had saved her daughter. Such people dejectedly hold the belief that life and death is all in God's hands.
It is astounding that such a grave problem which is evidently responsible not only for dismembering people but also for other serious fatalities to the extent of death, does not have a dedicated penal provision. Quackery had been condemned in an edition of Samachar Darpan, a Bengali weekly newspaper, in as early as 1834 but standing in 2020, we still do not have a law to curb quacks. The few and far between laws that we do have are so weak that the perpetrators get bail the very next day and start practicing again.
The laws that do exist are full of loopholes- for example, Section 15(3) of the Indian Medical Council Act, 1956, mentions a punishment of imprisonment which may extend to one year or a fine which may extend to Rs 1,000 or both. The lacuna here being that if the punishment is up to 1 year, the person can get a bail immediately from the police station. Even the prescribed fine fails to cause deterrence as they have not been revised to keep up with inflation rates. Rs. 1,000 which was a large amount back in 1956 is an easy sum in modern times.
Apart from the penal provisions under the Medical Council Act, the Indian Penal Code, 1860 (IPC) punishes quacks under Section 120B (criminal conspiracy), Section 304 (Punishment for culpable homicide not amounting to murder), Section 420 (cheating) and Section 416 (impersonation). The Delhi High Court convicted a quack under Section 304 of the IPC for the administration of wrong medicines to a 9-month-old baby which ultimately led to his death.
Addressing the media on the National Medical Commission Bill, 2019, Union Health Minister Harsh Vardhan had assured that a more severe punishment will be attached to quackery, enhancing it to up to 1-year imprisonment and a fine of up to ₹5 lakhs. As a result, Section 34 was incorporated in the National Medical Commission Act, 2019 which prescribes a punishment of imprisonment for a term which may extend to 1 year and fine which may extend to Rs. 5 lakhs or both if any person who is not enrolled in the State or National Register, practices medicine. However, it does not explicitly condemn the offence of quackery which allows people to misconstrue this provision.
Quackery is an evil everyone knowingly ignores. Getting hold of a degree through illegal means and proceeding to prescribe a medicine to someone which leads to their death should be met with nothing short of life imprisonment. However, these cases are unseen, ignored, intentionally avoided and overlooked because the section of the society getting affected by it are not people in positions of power. Besides, private doctors will keep charging exorbitantly high consultation fees, government hospitals shall always fall short of beds for the number of needy people and the evil nature of quackery will never get the attention it deserves.
The authority which can make an impact on this crime is the Central Government. Despite quackery being prevalent in the rural areas and villages, it is essential that a central legislation is passed which delegate and sub-delegate authority to control, check and curb this menace in such smaller areas. As such, there needs to be the passage of the anti-quackery bill which was presented in the Delhi Assembly in 1997 but was never passed. This anti-quackery bill or the Delhi Quackery Prohibition Bill, 1997 provided for banning of this malpractice in the national capital territory of Delhi. It provided a six-month imprisonment to people rendering medical treatment without a recognised medical qualification. It also provided for imprisonment for three years for prescribing medicines and rendering treatment, five years for causing simple damage to the health and life of a person, seven years for serious damage while death of the patient was to be answered with an imprisonment for ten years.
Complete apathy on the part of the government to eradicate quackery can be seen through their inaction to take heed of the Anti-Quackery Bill presented by the Indian Medical Association and the Medical Council of India. Instead, the government has shown an open inclination towards meeting rural health requirements through unqualified health professionals. Neither has there been any official survey on quacks undertaken by the government nor has any action been taken against the fake medical institutions distributing fake medical degrees. In 2003, the Delhi Government notified that they are studying the anti-quackery bill but with no such Act passed as of 2020, it can be concluded that the process has been abandoned.
A professional degree acquired by a doctor is to help people get better and not push them towards their graves. A doctor is a symbol of good health and hope. Such a position being misused to this extent is a mockery of such a qualification.
Getting treated by a quack is a risk that large masses of poor people undertake owing to financial restraints. The recent global pandemic due to the spread of COVID 19 virus has given a golden opportunity to these quacks to flourish. With little to no knowledge of the virus coupled with the anxiety to stay safe has made the poor people rush to quacks who are administering COVID tests at cheaper prices and providing medicines to combat this virus. Such acts are as harmful as the virus itself, if not more.
The government should carry out a nation-wide survey on quacks followed by the passage of a stringent Act against quackery. It is essential that a separate Act is passed for this cause since it brings the disregarded crime of quackery under the spotlight. Offenders of this crime being tried under a separate legislation proves the gravity of the offence and makes the law-enforcing authorities more vigilant. The existing laws in the Medical Council Act, 1965 have already proven to be ineffective and the IPC is tailored more for dealing with conventional crimes such as rape, murder, robbery, etc. However, quackery is a socio-economic offence, that is, it affects the health and morals of the people of a country. As such they are tended to be ignored since they seemingly do not pose a threat to the society. Thus, to bring them to the notice of the public, it is essential that the Government passes a separate law in this regard since a crime which starts as a means of earning easy money for someone ends in the death of another. The existence of an independent Act on quackery shall drive home the point that it is indeed an offence serious enough to have substantive penal provisions exclusive to it. In addition to a separate Act, focus should also be on investment in Government hospitals and establishment of authentic medical camps comprising qualified doctors in all the remote and quack-prone areas. It is time that the Government looks into this socio-economic problem and effectively curbs it before it destroys or claims any more lives.
[The author is a fourth year B.A.LL.B (Hons.) student at Rajiv Gandhi National University of Law, Punjab.]